The Most
Magnificent Thing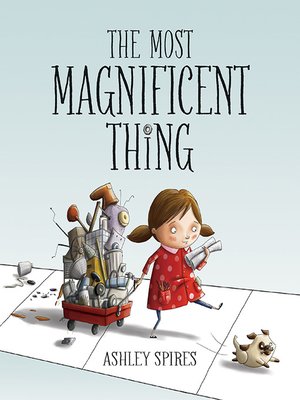 Awards:

Ontario Library Association Forest of Reading Blue Spruce Award Nominee (2015), Shining Willow Award Nominee (2015), Christie Harris Illustrated Children's Literature Prize Nominee (2015)
The Most Magnificent Thing is a delightful, endearing story that would be an excellent addition to a school's library of books supporting life skills—especially the life skill of perseverance as well as having a growth mindset! As a mentor text for life skills, it would be an excellent read for grades k-5.
As a mentor text for writing, The Most Magnificent Thing provides a solid study of character development, especially for older writers in grades 3-5. Other craft moves to cover with students: the intriguing title which captures the audience's curiosity straight away and the strong ending, which concludes, with an amusing twist, the struggles the character has throughout the story.
Interesting enough, the main character, a girl, and her best friend, her dog, are never named in the story. Pronouns dominate the story, which would be an interesting grammar lesson, as well.
Readers meet the main character, simply called 'the girl' in the story, and her best friend, the dog. The girl and her dog love to do all kinds of things together-racing, eating, exploring. She especially likes to make things and the dog especially like to 'unmake' whatever she creates.
Then one day, she has an idea to make the most MAGNIFICENT thing! She can see it in her mind's eye and she is very motivated to get her ideas down on paper. When she does, she is convinced that the most magnificent thing will be very easy to make! Readers do not know what the magnificent thing is yet.
She finds a good place to build her most magnificent thing and sets to work. But when she finishes, she has her doubts about it!
Some favorite lines:
"When she finished she steps back to admire her work. She walks around one side. Her assistant examines the other side. It doesn't look right. Her assistant picks it up and gives it a shake. It doesn't feel right, either. They are shocked to discover that the thing isn't magnificent. Or good. It isn't even kind-of-sort-of okay."
So, she tries again. Again it is wrong. So, she tries again. Again it is wrong. So, she tries again. Again it is wrong. So, she tries again. Again it is wrong.
She tries ten times to get it right! (Throughout all of her attempts, readers still are left guessing as to what the 'most magnificent' thing is!)
Finally, she gets very, VERY mad (and frustrated)! She decides to take a walk and she does cool down. When she gets back to her house, sees all ten objects that she has made and sees that she could actually use pieces of each one to make her final project!
She does—and in the end she had indeed, made her most magnificent thing—a side car
to attach to her scooter
for her dog to ride in
!
Suggested Uses as a Mentor Text:
Book Genre: Realistic Fiction
Reading Workshop strategies: Connecting, Fluency, Analyzing, Questioning, Inferring, Synthesizing
Writing Workshop genre and strategies: Narrative Writing, Character Development, Strong Lead, Strong Ending,Strong Female, Grammar: pronouns
Life Skills study: Perseverance, Growth Mindset